I recently had someone talk to me about how injection sites affect the concentration of a drug in your body. The chart below shows the results of a study in which the deltoid and gluteal injection sites were used. My thoughts are below that. Please let me know if you have any questions...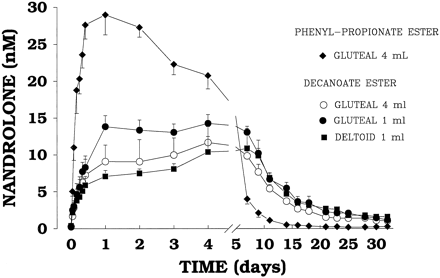 If you look closer at the chart, the concentration of Deca from the glute shot and the deltoid shot is nearly the exact same after 10 days (about what the half life is). So, that does not concern me. A better chart woul be one discussing longer esters with regard to volume in each spot. In that chart, no volume of over 1ml was expressed for a delt shot. The larger volume shot in the glute resulted in a higher inital value but by day 10 was slightly less. That figure is misleading because you are injecting twice a week at least, not every 10 days. So, the concentration of the larger shot would actually result in HIGHER levels overall than the smaller volume shot because you are constantly reloading the drug twice a week. This is the theory behing "frontloading" and why it is said to work so well. You load up on double doses of the drug for the first week and then the rest of the time the amount of the drug you inject is playing off the elevated levels of the drug, not the projected level that you would have with a constant dose.
I hope that makes sense. Much more math and calculations are involved in this than most people realize. And as you can see in the chart the shorter esters move your levels up quicker but they also remain at peak concentration for a smaller amount of time and have a sharp decrease, usually around the half life (in this case after day 4 of the NPP shot you can see a very sharp decrease in levels). So, this tells you that the frequency of injection and the initial amount injected are much more important than injection location.