I taught an older adult class on healthy eating and got into a lesson and discussion over lipid metabolism, cholesterol levels and statins. Many of them have high cholesterol and are taking statins.
Measurements of lipids levels in blood are frequently used to assess the risk of future heart disease. The most commonly used measurements are total cholesterol, triglycerides and high density lipoprotein cholesterol (HDL-C). These numbers are then used to calculate low density lipoprotein cholesterol (LDL-C),which has been found to be strongly correlated with the risk of heart disease.
In the past doctors tested:
Total cholesterol = triglycerides + HDL + LDL
Now doctors should test
Atherogenic lipoprotein particles = LDL-P (LDL particle number),apolipoprotein B (apoB) and lipoprotein(a)
This has shown to be a much stronger predictor or cardiac risks
Particle sizes = LDL small density (LDL-B) and LDL large density (LDL-A)
Studies show that people whose LDL particles are predominantly small and dense (LDL-B),have a threefold greater risk of coronary heart disease. Furthermore, the large and fluffy type of LDL (LDL-A) may be protective.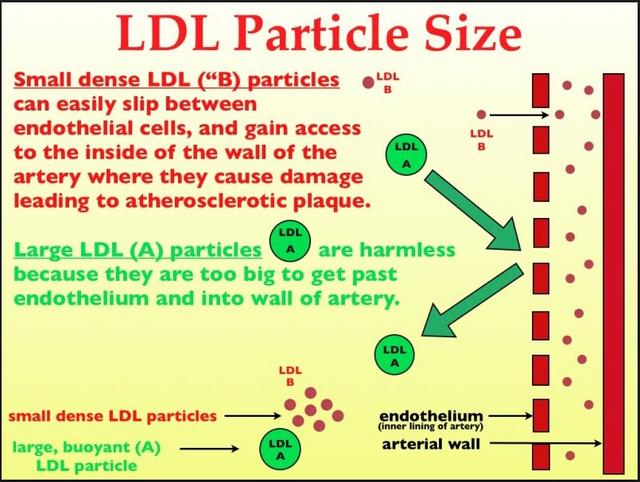 https://www.ncbi.nlm.nih.gov/pmc/articles/PMC2014286/
LDL Particle Sizes
In the class I mentioned atherogenic lipoprotein particles or particle sizes in relationship to LDL. Fat large particles (LDL-A) were good and in fact increase HDL, small dense particles (LDL-B) are known to increase cardiac risk factors. In fact, studies show that people whose LDL particles are predominantly small and dense, have a threefold greater risk of coronary heart disease. The large and fluffy type of LDL may be protective.
In view of the strong relationship between elevated plasma triglycerides and the small dense LDL-B particles, triglyceride lowering therapies could be expected to have a greater impact on LDL size and density than predominantly cholesterol lowering therapies using fibrates. Fibrates are a class of medication that lowers blood triglyceride levels in particular, small dense particle (LDL -B). Statins have little effect on particle size when tested in patients with the small dense LDL phenotype.
The following generic formulation medications are commonly given which have been shown to reduce LDL-B and increase LDL-A:
Fibrates
Gemfibrozil - Lopid
Fenofibrate - Antara, Triglide, Fibricor, Lipofen, Trilipix, and Fenoglide
Bezafibrate
Ciprofibrate
• To test for LDL particle sizes your doctor will need to do a test called Low-Density Lipoprotein Sub-fraction Profile. This will require a blood sample.
Diet Strategies
Strict low-fat diets (less than 20% of calories from fat) lower HDL and push LDL to the undesirable smaller size (LDL-B). Low-fat diets are therefore not advised when total HDL is low or when large HDL is deficient. People with low HDL do better by adding dietary sources of plentiful monounsaturated fatty acids (especially raw nuts, flaxseed products, and olive and canola oils),eating unprocessed foods with a low glycemic index, and increasing lean protein intake. Omega-3 fatty acids from fish oil have a modest effect in raising total HDL and increasing large HDL. Ketogenic diets have also been show to help.
The Ketogenic Diet:
• Increases LDL particle size to the less oxidation-prone state - a shift to LDL-A
• It increases the amount of HDL available to recycle LDL from the blood before it has a chance to become oxidized
• It improves the LDL to HDL ratio
• Lowers triglycerides and improves triglyceride to HDL ratio
1) Dietary carbohydrates increase levels of small, dense LDL cholesterol (LDL-B).
2) Dietary saturated fat increases levels of both HDL cholesterol (which is inversely correlated with cardiovascular disease) and large buoyant LDL cholesterol (LDL-A).
For many years doctors and nutritionists have been unwittingly giving incorrect advice to their patients about cutting fats – for example from the 70's onwards we have been telling them to cut down on eggs and other cholesterol rich foods (it has now been known for many years that dietary cholesterol does in fact reduce levels of LDL-B ); and in replacement, they should eat margarine instead of butter. Now we know that margarine was full of trans fats.
1. Levels of small, dense LDL particles are closely correlated with carbohydrate intake.
2. Saturated fat increases levels of HDL (good) cholesterol.
3. Saturated fat increases levels of large buoyant LDL-A (good) cholesterol.
4. We need to include a diet rich in omega 6 fatty acids and omega 3 fatty acids with a ratio of 3:1
5. Reduce the amount of sugars especially fructose and high fructose corn syrup you take in.
Include Coconut Oil
Coconut oil contains a high amount of saturated fats called medium chain triglycerides (MCT). Your cells burn MCTs for energy while storing very little as fat, boosting your metabolism and supporting your immune system. While eating more MTC's will cause your cholesterol levels to rise, it is not considered to be a negative thing and will not increase our chance of cardiac problems.
Researchers found that the saturated fat from coconuts does not negatively impact the cholesterol profile. Instead, the coconut oil's overall effect raised HDL while lowering triglycerides and small LDL cholesterol particles (LDL-B),which is definitely a good thing.
Reference:
https://www.ncbi.nlm.nih.gov/pmc/articles/PMC2014286/